Looking for a Venue?
Lavant Memorial Hall is a well-appointed Village Hall situated in the South Downs National Park just outside Chichester in West Sussex. The hall overlooks one of the prettiest Village Greens in the county, with picturesque views of the South Downs and the Goodwood Estate. It offers an ideal venue for Private Parties, Wedding Receptions, Exhibitions, Craft Fayres and similar events.
The hall offers a variety of spaces that can be hired separately, or in combination, to provide greater flexibility. Please visit our "Facilities" pages for more details. It is licensed for entertainment, the playing of live and recorded music, and has a premises licence for the sale of alcohol, although this is not available for private functions. We recommend the use of a Temporary Event Notice if hirers wish alcohol to be sold during their hire.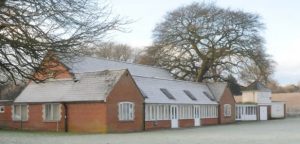 Want to Hire?
Should you be interested in hiring, whether on a one-off, occasional or regular basis, please take a look at the "Prices" and "Make Bookings" pages and then get in touch. An information leaflet is also available to download.
What's On?
The hall is regularly used for Meetings, Lectures, Classes, and various forms of Entertainment and Leisure. The "live" Hall Diary has all the details.  For more information about the role of the hall in the community visit our "About" page.
Thinking of Using the Green?
Please note that use of the Village Green is controlled by Lavant Parish Council and further information can be found here.

News  and Events
Coronavirus - the Hall is now OPEN ...
although there will be some restrictions in place for your safety and well-being. We have a Covid-19 page with more news and information about how the Hall will operate as a "covid-19 secure" facility. Whether you are a prospective customer or a regular user, please contact the Booking Secretary in the normal way to discuss hiring.

[updated 25 August] Water Main work ....
in Pook Lane, Lavant, is now well underway. We have been assured by the project team at Portsmouth Water that access to the Hall will be maintained at all times. Look carefully and you will usually see an "access for residents and property sign" even if the road appears closed. Access does vary between the A286 and Sheepwash Lane ends, currently from the A286 roundabout, so please persevere. You can see the latest traffic disruption information here. Just zoom in and click on the relevant icon. You can also sign up for email updates from the contractors who advise that they are making good progress and expect to complete ahead of schedule in early October.