Looking for a Venue?
Lavant Memorial Hall is a well-appointed Village Hall situated in the South Downs National Park just outside Chichester in West Sussex. The hall overlooks one of the prettiest Village Greens in the county, with picturesque views of the South Downs and the Goodwood Estate. It offers an ideal venue for Private Parties, Wedding Receptions, Exhibitions, Craft Fayres and similar events.
The hall offers a variety of spaces that can be hired separately, or in combination, to provide greater flexibility. Please visit our "Facilities" pages for more details. It is licensed for entertainment, the playing of live and recorded music, and has a premises licence for the sale of alcohol, although this is not available for private functions. We recommend the use of a Temporary Event Notice if hirers wish alcohol to be sold during their hire.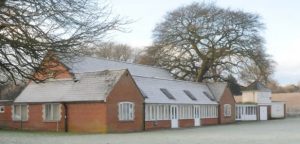 Want to Hire?
Should you be interested in hiring, whether on a one-off, occasional or regular basis, please take a look at the "Prices" and "Make Bookings" pages and then get in touch. An information leaflet is also available to download.
What's On?
The hall is regularly used for Meetings, Lectures, Classes, and various forms of Entertainment and Leisure. The "live" Hall Diary has all the details.  For more information about the role of the hall in the community visit our "About" page.
Thinking of Using the Green?
Please note that use of the Village Green is controlled by Lavant Parish Council and further information can be found here.

News  and Events
The Hall AGM ...
will be held on Tuesday 7th December at 6:30 pm at the Hall. This is a public meeting that all adult residents of Lavant Parish are entitled to attend and at which they can vote. If you wish to attend it would be helpful if you would notify the secretary admin@lavantmemorialhall.org.uk  so that we have a good ides of numbers. Come along and hear about your Hall! The agenda is here and you can read last year's minutes here.

Coronavirus - the Hall is now fully open ...
from 19 July at Step 4. Please refer to our Covid-19 page which has more news and information about what constraints remain and how the Hall operates as a "covid-19 secure" facility. Whether you are a prospective customer or a regular user, please contact the Booking Secretary in the normal way to discuss hiring in the future.

Work is starting on the extended car park ...
on the 1st November. Good news! The developers have agreed to maintain access to the car park, although a small number of spaces will be lost temporarily during the works. Disabled parking spaces will be unaffected and we expect to make arrangements for some overspill parking during the day.  Parking will also continue to be possible alongside the Green in Pook and Sheepwash Lanes as now. There may be occasions when heavy plant has to be moved on or off the site, but these measures should ensure any disruption is minimised and hiring is unaffected. Please check back here for further updates.

A New Fire Alarm System  ...
has been installed by local company PA Fire Systems during our partial closure. The system comprises a comprehensive array of smoke and heat detectors with audible sounders and visual strobes throughout the building. There are alarm activation points at all the Hall exits. The system will provide an enhanced level of fire safety in line with current practice.