The Bleaches Room...
provides a space for smaller gatherings. The room has an area of approximately 17 square metres being 5.6m long by 3m wide (18ft x 10ft).
The room can accommodate 20-25 people in close seating layout, or 12-15 in meeting room layout around a committee table.
This room is not currently open because of covid-19 restrictions.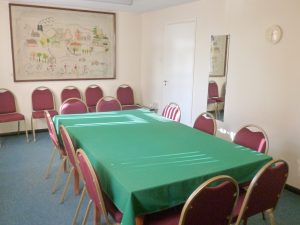 Features:
Upholstered seating and meeting table
Access independent of the Main Hall and Green Room
Independent convector and wall heating
The room has two doors and can be configured as two small rooms partitioned with a curtain or screens